The RMB fell through 7 to a Dollar. That caused a sell off in most risk assets (outside of bonds, gold & Bitcoin).
Shortly after noon this is what the market looked like.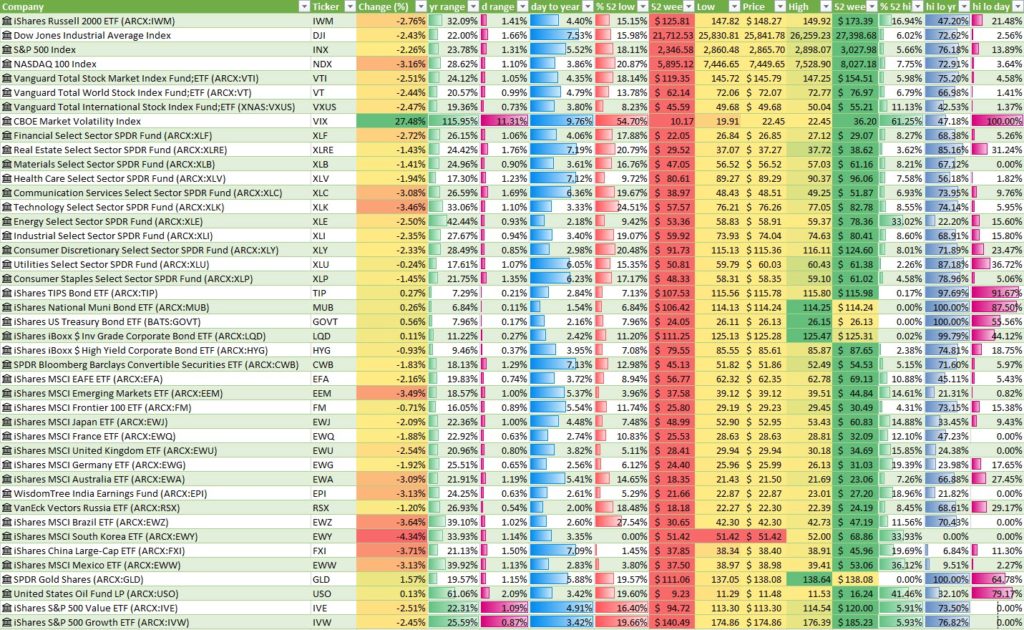 Outside of bonds, relative outperformance largely meant falling only a percent instead of falling 2% or 3%.
South Korea is heavily export driven with an emphasis on electronics & computing equipment, so them falling about 5% today is ugly.
I sold the last Bitcoin I had left after the ~ 10% ramp in the past day. Virtu, my counter-cyclical pick that tends to rise with volatility was also up today, so I sold into strength on it. AbbVie was also up today, in part on news of insider buying, so I sold it at a small gain.
| Date | Name | Postion | Action | Quantity | Price | Total |
| --- | --- | --- | --- | --- | --- | --- |
| Jul 31, 2019 | Roxanne S. Austin | Director | Buy | 25,000 | $65.66 | $1,641,500 |
| Jul 30, 2019 | Roxanne S. Austin | Director | Buy | 30,000 | $66.02 | $1,980,600 |
| Jul 29, 2019 | Roxanne S. Austin | Director | Buy | 10,000 | $66.35 | $663,500 |
| Jul 28, 2019 | Henry O. Gosebruch | Officer | Buy | 30,000 | $67.28 | $2,018,400 |
If the market tanks another day or two I might re-establish an ABBV position.
The other stuff I was holding bled out today.
When the stock market is off 2.5% to 3.5%, almost everything is going to be in the dumpster. Only 20 stocks in the S&P 500 were up today.
China + Russia = US + Mexico?
One trade idea I am kind of starting to think about is a long Mexico play.
It seems some progress is being made on the immigration crisis front with Guatemala signing a safe third country agreement.
If the US relationship with China gets worse & worse & worse then at some point something is going to pick up in Mexico. Mexico still might be an utterly corrupt country heavily influenced by drug cartels, but it could pick up in the same way Russia has improved over the past year due to the US-China trade war drawing Russia & China closer together.
Cars.com Into the Median
Cars.com announced a weak quarter AND that they failed to find a buyer during their strategic review. Their stock is off about 35% to fresh all time lows. They're currently at about $11.80 a share, but fell to as low as $10.30 a share earlier in the day.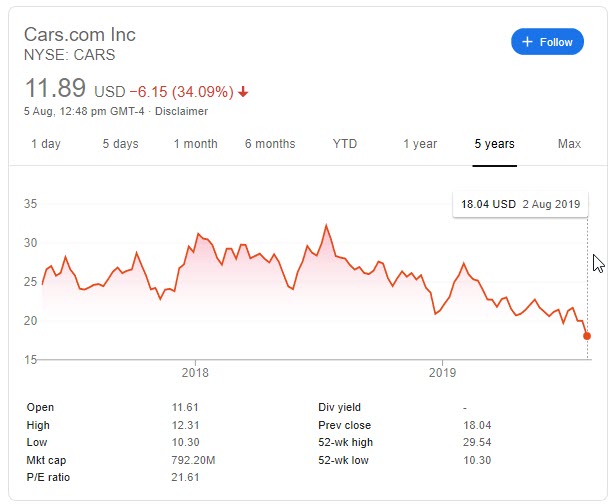 If nobody was interested in their stock a premium to their old trading price then sliding by over a third means the new take out price would be less than their enterprise value yesterday.
I am not sure if their dead cat bounce is over & if they slide back under $11 a share, but they have one of the few memorable, short, descriptive category-killer domain names which could be advertised on TV. Automotive is an absolutely massive advertising & consumer purchase category, so if distinct vertical marketplaces are to mean anything that business should have great value to someone.
After the fall their market cap is $783 million & their enterprise value is $1.44 billion.
Starboard Value established a 9.9% position back in 2017 & that doesn't appear to be working too well. I traded in and out of CARS a couple times today & am holding a small position. I am hoping the bottom is in, but if one of the tires is loose someone can get hurt!
Factoring exiting a bit of Bitcoin & those in-n-outs on Cars I am actually up a bit today, but the market looks super ugly.