The market is up higher on optimism around trade, or increased central bank intervention to prevent market risk from being realized, or something else.
And so many of the momentum stocks have been crushed of late. Meanwhile some beaten down value play stocks have been moving like penny stocks, with 5% daily moves. And so many of the momentum stocks have been crushed of late.
Value is seeing the light of day finally. A huge rotation out of momentum stocks is underway as investors pile on bets on economically sensitive, cheap stocks on renewed hopes for a U.S.-China trade deal. The ramped-up wagers on underpriced, cyclical stocks are supported by the view that interest rates have bottomed for now as sentiment around trade uncertainty improved. At the same time, investors are dumping those expensive growth stocks which they had used as a defensive play early this year.

CNBC
Is that the great rotation trade that marks value is finally in? Or is it something else entirely?
A couple weeks ago I started helping a friend when they launched a new company. My initial impression was that it was going to be mostly light touch & I would assist a bit here or there, but it quickly became a bit more certain I was a life raft working double shifts. And I guess I will continue to do so until they are up and running with things smoothly.
That said, there is no way a person can have 2 or 3 full time jobs while being a successful day trader on the side in the age of Trump tweets. So the Friday before last I liquidated all my active positions to take a break for a bit.
Of course, after having done so SKT was up about 5% a day a couple days in a row & CARS was up 9.4% on Friday on a deal with GM to provide web services to their 4,000+ dealership clients.
I certainly still am up a good bit on the year, but I think doing a couple things really well is more sustainable than doing many things poorly, particularly with how competitive the capital markets are.
I still might trade time to time on the IRA account or if I see something I think is an utterly fantastic set up, but I am probably going to do minimal trading for the next couple months at least. That IRA has done well so far this year with really only a few losers out of about 20 trades.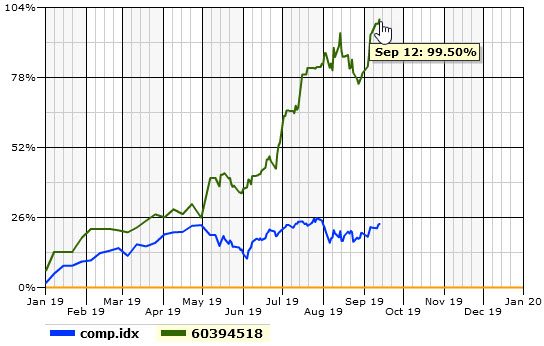 I find humor in it being just under a clean double.
It reminds me of the time my mom told me I had an IQ test result I left in the car when I didn't even remember taking such an exam. All I remembered was the comedy of her telling me about that while I was so aloof about it & the bonus joke of being 1 point short of genius.
He who finishes second is first to lose. 😀
Sadly, this hiatus likely means I will be missing out on the WeWork IPO.
I am a big fan of the company
At least I can still watch the theatrics from the sidelines
100-year Treasury bonds might be on offer soon. They might be a better investment than the WeWork IPO, but I'll stick in cash for now, at least until I have at least 20 free hours a week to devote to the capital markets.