Zillow plunged hard on a revenue miss & announcing they were acquiring a loan origination shop named Mortgage Lenders of America for an undisclosed sum.
It is the second quarter in a row where Zillow bombed out after announcing soft earnings & jumping into a new business line.
However, in between the two earning reports, Zillow reached an all time high of $64.42. As of typing this Zillow is off $10.45 a share today, down 17.71% to $48.55, which puts them 24.6% below all time highs.
As much as some investors hate the Zillow Offers model which is essentially home flipping, Zillow expanding in that direction is probably a good call just to limit some of the potential investments in competitors who could start with that business model, build a destination site & then move across to compete against the core Zillow or Trulia sites.
With Softbank's Vision Fund throwing hundreds of millions or even billions of Dollars around, preventing smaller startups from getting a solid footing with even a tiny vaporware side business is a big win.
And while owning a loan origination shop will have Zillow competing directly against other players on their platform, it shouldn't be a significant risk as there are not many sites who have access to the core audience in the buying mode & most of the smaller independent players are way behind in share, brand awareness & technology.
If you are not one of the big 4 or 5 US banks (JP Morgan Chase, Bank of America, Wells Fargo, Citibank, US Bank) then you need to acquire customers through some other channel with a connection to the consumer. There's only a few players with a strong footprint: Google, Zillow, Realtor.com, Bankrate. From there it is likely either a big step down in volume with something like Bing or a big step down in quality with sort of mystery meat clicks & leads from a lot of other providers.
If you look across the web a lot of the vertical destination sites have been bought out. Pure play sites like WebMD & Blue Nile have been going private for years. IAC & their former companies have rolled up players in categories like travel, dating, & home improvement.
One of my favorite tools for tracking how strong businesses are online is SEMrush. Here is a screenshot for some of their Zillow data.
This provides a quick "at-a-glance" view of their historical Google performance along with where they sort of fit in with their competitive set.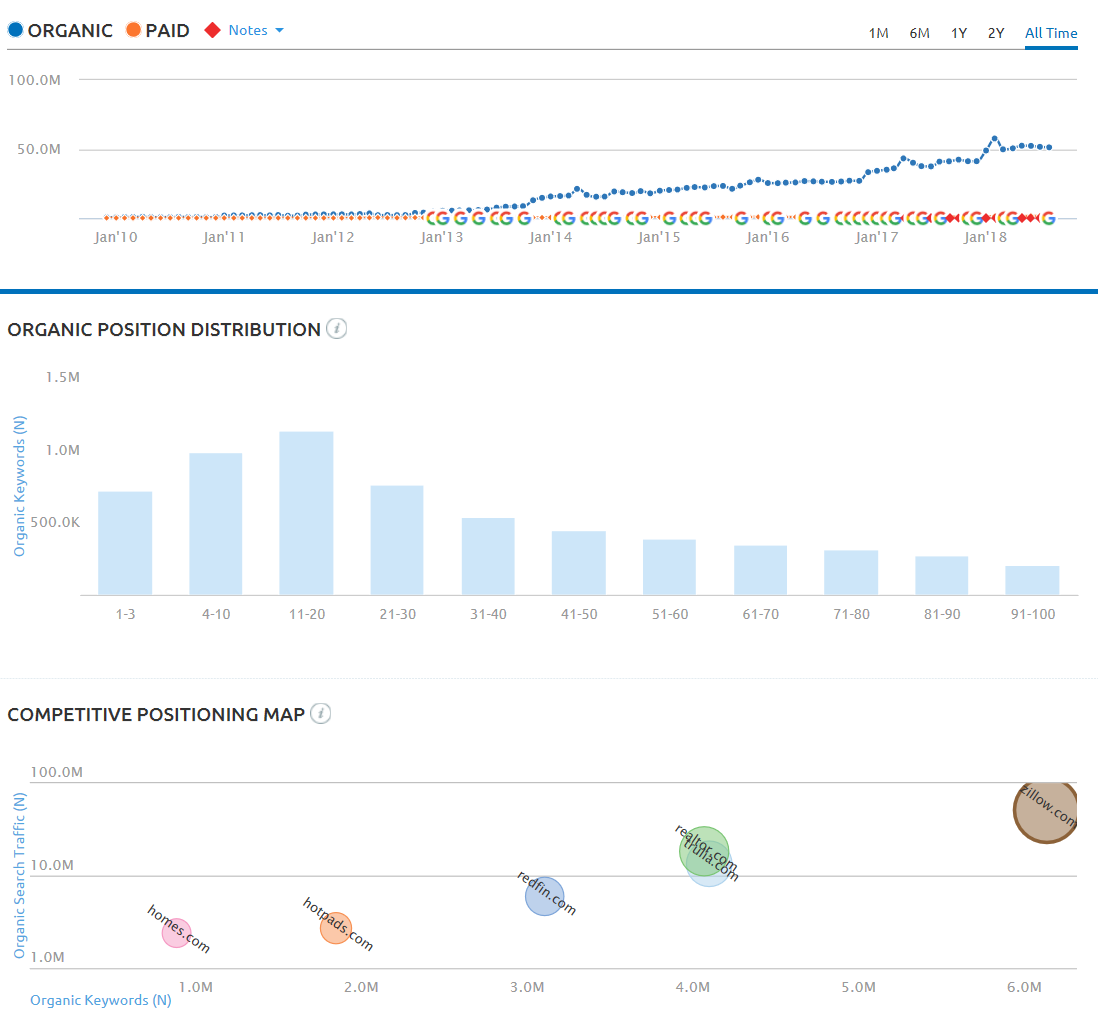 From that graphic you can see:
they keep getting stronger year over year
most of their ranking positions are in the top 20
their closest competitor is Realtor.com, which is on par with Trulia in terms of search engine exposure & estimated traffic
There are lots of estimates baked into data from such tools & maybe dominating the category means they won't have a lot of room to grow via search directly, but if they are a strong destination site many people will bypass general search engines and visit the sites directly.
The SEMrush traffic analysis section estimates Zillow gets about half their desktop traffic directly from end users.

Zillow's current market cap is a bit under $9 billion.
Silver Lake acquired Zoopla for £2.2 billion (equivalent to $3 billion at the prevailing exchange rate at the time the offer was made). Zoopla is one of the leading UK property platforms along with Rightmove.
Zoopla's search traffic profile for their core site looks similar to the chart for Zillow.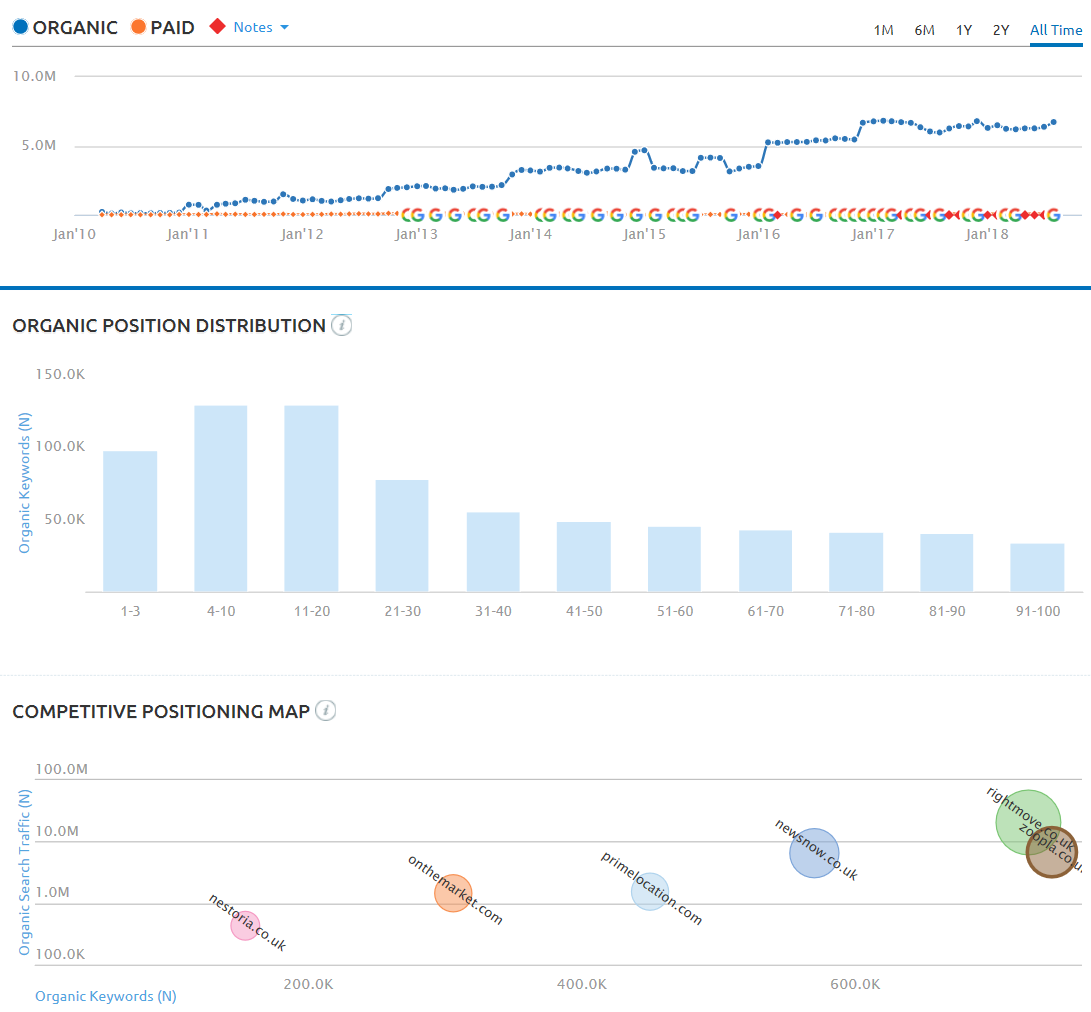 Zoopla's parent company which was acquired by Silver Lake also owns other properties like Uswitch, Money.co.uk, PrimeLocation & SmartNewHomes.
A few big differences between Zoopla & Zillow are:
Realtor.com is a distant second to Zillow in the US & is roughly tied with Trulia for search traffic.
Zoopla has a strong direct competitor which is publicly traded in RightMove, which is valued at around £4.48 billion or $5.8 billion.
The United States has a much larger population (& thus real estate market) than the United Kingdom does. The Census population clock puts the US population at 328.3 million. The same tool puts the UK population at 65.1 million.
The UK still has the looming Brexit related political risks.

If there is a hard Brexit that could in turn lower immigration, which would lower demand for property & thus property price appreciation rates.
Economist Steve Keen has mentioned how the UK having their own currency while being inside the EU has sort of made them act as a relief valve for some of the population movements as some of the southern European periphery countries have had migrations due to structurally weak economies from being tied into the same Euro currency that export powerhouse Germany uses.
The UK has also started pushing laws to go after ill gotten wealth from foreign oligarchs who parked their money in the London real estate market.
Between the two of those it could impact both the high and low ends of the UK real estate market.
Meanwhile the US real estate market is still quite strong, as it is heavily subsidized by long-term fixed rate loans which do not immediately increase ownership costs the way floating rate loans do & the U.S. Federal Government owning Fannie Mae & Freddie Mac.
Disclosure: the author was not paid to write this article & has established a position in Zillow stock today.