Weyerhaeuser (WY) slid hard shortly after open, so I increased the position size on it & then after turned up sold it. Petmed Express (PETS) and Funko (FNKO) were both strong today, so I sold out on those as well. A 5-day chart of PETS shows how ridiculous the stock action was.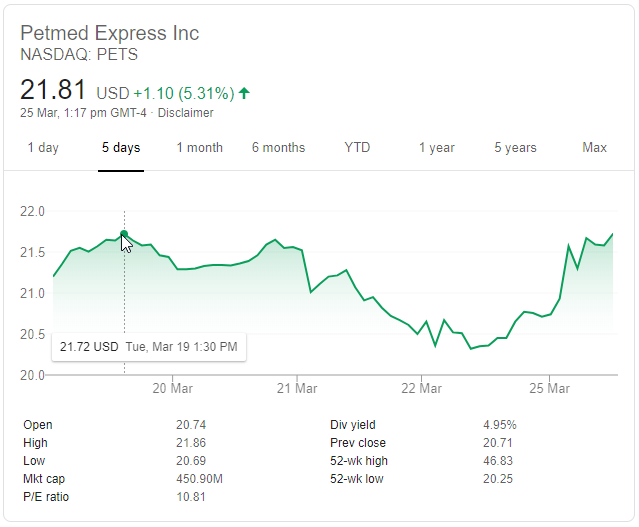 I flipped a bit of MMYT at a profit, though am still holding a mid-sized position which is down a couple hundred (though far less than I have made on that ticker so far this year or what I made on it last year). MMYT has limited trading volume, so when you couple that with an emerging market growth stock, volatility & spreads can be quite high, so you need it to move a bit to make up for the bid/ask spreads.
I am holding a bit of Newmont (NEM) still along with a tiny position in Kroger (KR) I just established today.
My CVS & Walgreens Boots Alliance (WBA) are still off a bit, both having stunk once more today. If I didn't already have positions in them I would buy with size at current prices. Walgreens announces earnings next Tuesday. A big part of why WBA sold off was in conjunction with the bad quarter & write down CVS belched out recently. If Walgreens reports anything other than absolutely horrific quarter on Tuesday I think they'll likely gain at least a couple percent & could see them gaining as much as 5%.
I can sit around & watch the market, but I don't see any of the great opportunities I saw earlier today, so I am off for a nap. 🙂