Tech Stocks on Fire
Today tech stocks are once again on fire with Google & Facebook up a couple percent and other online players like Etsy, Twitter, Zillow are up big as well. Even some of the international beaten down tech stocks like MakeMyTrip, Yandex & JD are doing well today.
A couple things stand out on the massive 7%+ jump in Yandex today.
The weakness of the Ruble coupled with the strength of oil prices has the Russian economy humming.
Sberbank (which is half owned by the Russian central bank) is up over 3% today and bottomed out a few months back, with its US-listed ADR (SBRCY) up ~ 26.7% since bottoming out at $9.69 about a month ago. The Russian central bank raised rates a quarter point last month.
Lyft picked their 2019 IPO underwriters & Uber's CEO suggested the company might go public at a $120 billion valuation. Buying Yandex (which merged their taxi service with the local version of Uber & plans to IPO it early next year) is a way to front run the car-sharing IPO hype cycle similarly to how people bought Zynga ahead of the Facebook IPO. If Lyft is valued at $15 billion & Uber $120 billion (not saying those valuations are solid but are being sold) then the idea of getting a sort of Lyft with a free mini-Google baked inside for $11.55 billion isn't a particularly bad deal.
Yes it is in Russia, but it has the local regulators working for it rather than against it & isn't likely to see the sort of major EU fines Google has been earning. Google today announced they would start charging European Android device makers a licensing fee for access to the Play Store & other Google Apps.
Say Cheese
Snap is the exception to the tech stock rally, their stock is trading like a beaten down value stock nobody wants on a FOMO day, down almost 4% in a market where competing plays are up 2, 3, 4, 5%.
Icahn Has Dollar Store Stock (Once Again)
The dollar stores have less robust & redundant supply chains than entities like Wal-Mart do & Carl Icahn recently acquired a sizable stake in Dollar Tree.
Icahn in 2014 built a stake in Family Dollar pressuring it to seek a buyer. His firm made a profit of about $200 million on its investment when Family Dollar was acquired by Dollar Tree for $8.5 billion in cash and stock.

Ironically, Dollar Tree has struggled largely because it took on too much debt to make the deal happen, analysts said. That debt has made it harder for Dollar Tree to invest in its 15,000 stores that only sell items for $1 or less.
If the company s already seeing slowing growth due to high debt leverage he might struggle to force them to eat more debt to fuel buybacks. That might be his ultimate play though because each of the last 2 years the company has paid off over a billion dollars in liabilities, which is a sizable shift for a company valued at $20 billion. If he could get them to divert that $1 billion into stock buybacks they could easily pop their market cap 30% before the rising rates couple with the rising debt load to start dragging the stock price downward.
Either he thinks the 30%+ fall in Dollar Tree's stock price from $116 to around $80 on trade war concerns created an entry point where he can profit from further debt levering before the trade war bites, or he thinks the trade war gets resolved quickly and the company blows well past old all time highs.
DLTR stock is already up over 5% to $85.10 & it looks like today's share volume might end up about double typical.
If the trade war is a nothingburger in short order then stocks like Newell Brands (NWL) have huge upside. If the trade war is a real thing & will keep escalating then some of the companies like Newell Brands are so beaten up they'll ultimately end up eating moving production out of China as their stock's slide since last June has been every bit as extreme as the fall in price after the 1990s tech bubble imploded or the fall from the 2008 / 2009 global recession.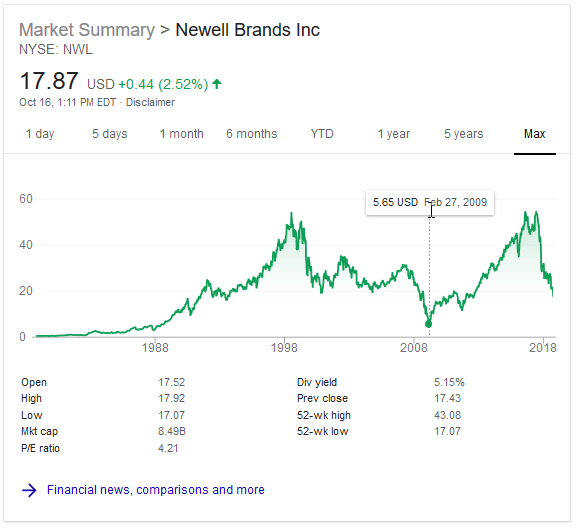 Dollar Tree has a similar market cap to Kroger, but has about 1/3 the debt. Kroger's stock had been on fire the first half of the year (in part due to them announcing so many ecommerce initiatives & other various partnerships), but recently slid. Walmart also recently announced they would miss their 2019 GAAP EPS guidance. In spite of that their stock was still up over a percent today.