Sector rotation continued yesterday with some emerging market plays like Ctrip up big, bring up other smaller parallel plays like MakeMyTrip. Despegar might be a higher leverage way to play OTAs in emerging markets, though the sort of "national champion" model promoted by China & which India aims to emulate will likely provide a greater level of protection from foreign firms aiming to leverage their current profits from the western world into price dumping to grow to a dominant share in emerging markets.
Funko gave back the pop they had after reporting earnings. They are now trading around where they were before the November stock market sell off.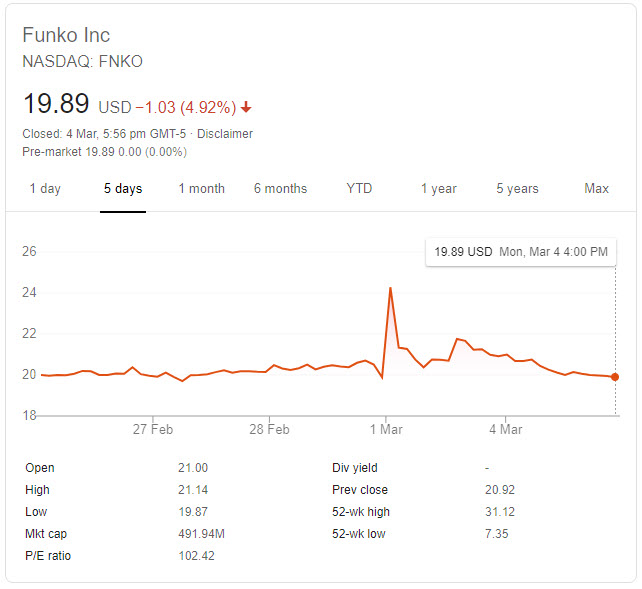 Since reporting earnings CVS has traded like a penny stock – giving away its quarterly dividend worth of market cap daily for a couple weeks straight. They are off about 22% from February 19th & have fallen by over half since July of 2015.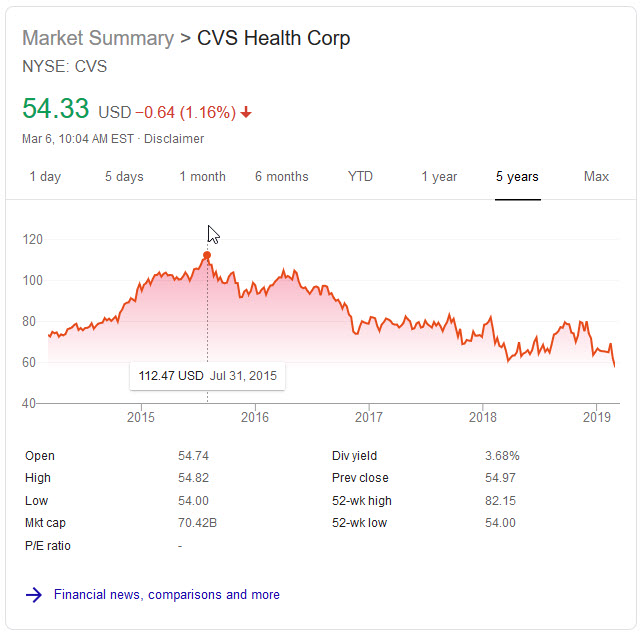 If the economy goes into a recession there is a fear that Democrats could take both branches of Congress & the presidency, and perhaps initiate some changes which crammed down spending in healthcare. It is worth noting Nancy Pelosi's top health policy aide told health insurers not to worry about "Medicare for All" impacting their businesses.
Pelosi adviser Wendell Primus detailed five objections to Medicare for All and said that Democrats would be allies to the insurance industry in the fight against single-payer health care. Primus pitched the insurers on supporting Democrats on efforts to shrink drug prices, specifically by backing a number of measures that the pharmaceutical lobby is opposing.
The above approach would seem to lessen the risk of the steep price CVS paid for acquiring Aetna.
Walgreens Boots Alliance has also been careening downward. There was a big multiple percent reversal on CVS yesterday with heavy volume, but then it headed lower once more to close the day & both were down significantly early again today.
There's a good chance the bottom is in today or tomorrow on both the 2 big drugstore chain stocks unless the entire market tanks – though if that happened it would likely drive investors into defensive sectors like healthcare. Walgreens Boots has debt leverage & more of a global footprint, whereas CVS also has loads of debt due to their Aetna piece which they paid almost their current market cap for. Writing down one acquisition while beginning to integrate a larger acquisition is a great way to crater share prices.
Rite Aid is a proper penny stock with a share price of 66 cents & a market cap around $700 million. That's quite a fall from their 1999 price of over $50 a share. Their current price isn't too far from touching their December 2008 prices. They don't have enough scale to remain relevant.

Target was up big yesterday after reporting earnings & offering strong guidance. After gapping up about $4 a share at open yesterday they are up another $1 today.
Kroger also further recovered from last week's "oh no Amazon" narrative. Kroger's almost where they were before the Amazon semi-announcement. That is the second time fading the scary Amazon headline has been a winner for Kroger shareholders.
Target, Kroger & Walmart are quietly fighting back against Amazon.com by becoming online ad plays in their own right.
"Walmart likely has $2 billion to $3 billion in annual digital ad sales already, but could grow that to $5 billion within a couple of years, Stich says. He estimates Amazon ad sales now at $15 billion. And he says that Kroger Co., which only in recent years has developed substantial digital ad revenue from its online grocery business, now has nearly $1 billion in digital ad sales, similar to Target."



Given the high margins associated with online ads & mass market retailers creating more private label goods to improve margins, differentiate their stock & force ad buys, low margin retailers could see significant margin expansion which offsets delivery costs they ate by trying to adjust their narratives to better compete against Amazon.com. Target has already adopted differential pricing based on user location & is building out a third party network of complimentary suppliers to display on their website.
The Amazon grocery store story also hinted at beauty product sales in their soon to launch grocery stores.
"Beauty items offer high margins for grocers, and Amazon has expanded its array of such products under various labels. Health and personal-care items are Amazon's largest source of consumer-product sales online, with roughly $5 billion in sales last year, according to e-commerce data analysts Edge by Ascential. … Though more shopping is expected to migrate online, less than 5% of the roughly $1 trillion in annual U.S. food and consumer product shopping is done over the internet now, market research shows."
My wife loves the Boots beauty products section in the Walgreens between Westfield mall & Chinatown in SF, so any success by Amazon there is another whack to the pharmaceutical retailers.
Carl Icahn is taking his second blood letting from Dollar Tree. He established a stake in the company last October. On earnings they announced they would close 390 of the Family Dollar Stores they purchased from him & other shareholders for $8.5 billion in 2014.
Barron's quoted a Needham analyst today who suggested Alphabet should spin out YouTube.
"We believe Netflix (NFLX) is the best public comparable for YouTube…A current Netflix multiple of our estimated YouTube net revenue of $14 billion implies that the value of YouTube is about $140 billion."

Needham's Laura Martin
The odds of that happening anytime soon are IMHO approximately between 0 and 0 percent. They could, however, eventually start breaking out reporting of performance much like Amazon did with AWS.
They've been hesitant to do that for a couple major reasons
the core click volume of search has been growing slowly as much of the search volume growth is in emerging markets with limited ad coverage. most of the ad click growth Google is reporting is YouTube video ads – particularly the unskippable preroll ads.
they can keep suggesting they are investing in growth with YouTube & it is unprofitable to keep their high 45% take rate on ads from YouTube partners (as opposed to 32% on AdSense) & potentially shield the "unprofitable" service from lawsuits and negative media coverage each time an antivax, suicide tips, or pedo or hate preacher genre is exposed for allegedly playing some outsized roll on the service
One other thing I find at least a bit ironic & hilarious is many news sites are relying on cutting edge Google technology to help moderate their comments.
"Rather than using machine learning to determine what is or isn't against a given set of rules, Perspective's challenge is an intensely subjective one: classifying the emotional impact of language."
Meanwhile YouTube is known for having the singularly worst comments section on the entire web. Recently Google suggested YouTube partners could get demonetized if they did not police comments on their videos.
"instead of hiring more moderators and building better tools to flag abuse, YouTube has, once again, put the responsibility on YouTubers. Now, on top of the burnout-inducing production schedule required to remain in algorithmic favor, the company expects creators to act as their own community moderators."
Literally anybody can boost their popularity by promoting a viral story about a seedy subsection of YouTube. From the above article:
As part of the backlash against Watson, an old clip from one of his now-private videos is also currently circulating. It's a scene from a man-on-the-street prank video which allegedly shows Watson asking an underage girl if she wants to make an adult video."
Why the hell isn't Google offering the moderation tech as features to their YouTube partners?
In spite of all the media hate YouTube garners, it is a great service which is having profound impacts on millions of lives, especially in emerging markets like India where local substitution will accelerate massively due to cheap access to information.
"There was a time when people had paper maps," Sengupta says. "Today you walk around India and see everyone using Google Maps because they work off-line."

…

"Several Saathis and their trainees have seized the chance to start cottage industries with their new Internet skills, downloading instructional videos on YouTube on how to make homemade honey or embroider shirts, for example."