I think the Cars.com sell off is more than a bit overdone and have been an avid dip buyer over the past couple days. It hasn't felt particularly comfortable watching the stock careen lower and lower, but in reality the company is valued at about 1/3 of what it was valued at when a deep value investor took a strategic position in it. It doesn't have a huge network of dying retail stores & ultimately is still a leading vertical search play in one of the biggest search categories.
Cars.com CEO & president Thomas Alex Vetter bought 20,000 shares on August 7th at $10.19 a share. And as of close today shares were trading at $9.20 after reaching an all-time low of $9.16 earlier in the day.
Lots of stocks have been up huge or down huge this week. One of my favorite names ROKU was up over 20% today. VIRT fell over 18%. I went in and out of VIRT for a small gain today, but will probably wait at least until Monday before buying more than a small position.
The New York Times warned they would have weak earnings in the second half of the year. They fell from above $35 to under $29. I bought just about the bottom tick on that and sold out after a quick gain of about a percent.
New Media also bombed on their Gannett merger. They are up almost 24% today, but that is still off about 16% from where they were before the acquisition was announced. Zillow fell 15% today. Kraft Heinz fell almost 9%.
5%, 10% & 20% swings in a day are not the mark of a stable market.
Bond yields appear to have bottomed out on a realization China wasn't going to massively devalue the Yuan. Bitcoin is trading around $11,823. It's rise has paused while the financial market has jumped back into traditional asset classes today. Alt-coins appear to be dead, with Ethereum back at $216.55 & Bitcoin dominance closing in on 70% at 69.1%.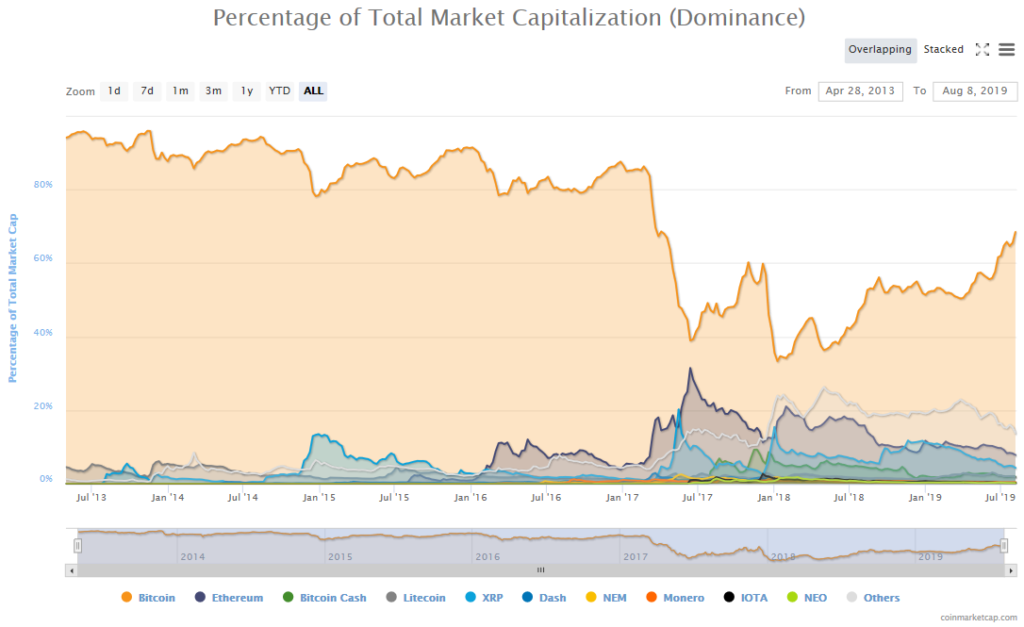 I sold out of my remaining Kroger yesterday after they were up over 7%. Good thing, as they slid over 2% today.
Funko was up 7% during regular hours today & another 7% after close on a revenue & earnings beat.
CVS has recovered from most of the plunge it took over the past half year while Walgreens is still down quite a bit more.
All 30 Dow Jones Industrial Average components were up on the day & so were about 95% of the S&P 500 components.
Other than individual names that missed on earnings (& the seemingly perpetual downward vortex on CARS) it seems volatility was about the only thing off hard today.