I just bought a bit of ROKU today after multiple downgrades knocked the stock from above $70 to under $57 over the past couple weeks.
Roku opened up yesterday with the broader market, but as Netflix fell on news of a low priced competitor from Disney competitor to launch in November it pulled Roku down with it.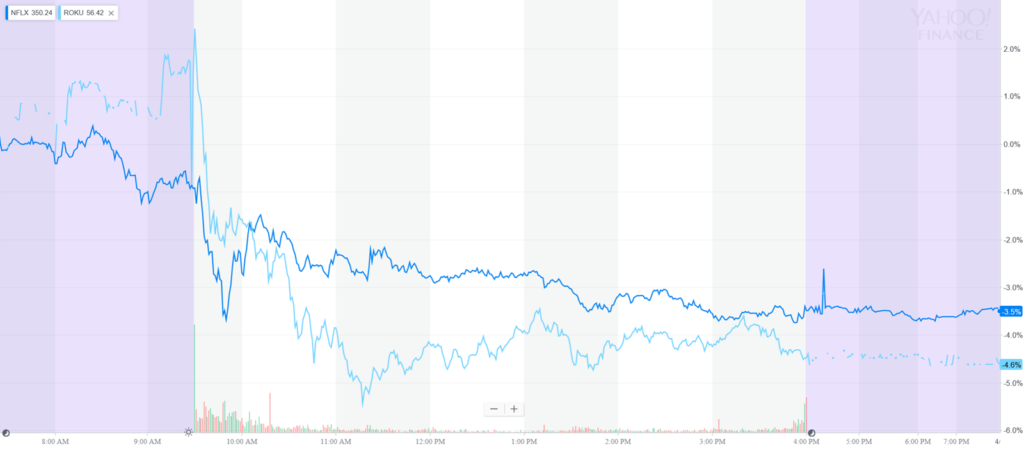 Roku is of course a smaller stock than Netflix, so the industry leader sliding would make some correlation trade algorithms push down Roku hard. That said, I think the "online video stocks" correlation pulling down Roku from a fall in Netflix makes no sense in the context of the news which drove the market today.
In markets dominated by a single player, you can't really negotiate with them, you have to accept whatever their terms are. Netflix is powerful enough they could push around Apple to skip their app store skim. A market which is rich & diverse in competitors has many more potential partners hungry for buiness, many more businesses spending on growth & many more business opportunities for Roku.
A few other reasons to like ROKU…
Massive Market Size
The OTT market is absolutely massive – estimated at $4 billion a year & growing 25% YoY into next year:
"OTT (over-the-top) video ad spending is expanding at the fastest rate of any major medium and will approach $4 billion this year and $5 billion next year, according to a revised advertising forecast from IPG Mediabrands Magna Intelligence unit."
Video is the Future of the Internet
As Josh Herman wrote in 2015 The Next Internet Is TV.
In this future, what publications will have done individually is adapt to survive; what they will have helped do together is take the grand weird promises of writing and reporting and film and art on the internet and consolidated them into a set of business interests that most closely resemble the TV industry. Which sounds extremely lucrative! TV makes a lot of money, and there's a lot of excellent TV. But TV is also a byzantine nightmare of conflict and compromise and trash and waste and legacy. The prospect of Facebook, for example, as a primary host for news organizations, not just an outsized source of traffic, is depressing even if you like Facebook. A new generation of artists and creative people ceding the still-fresh dream of direct compensation and independence to mediated advertising arrangements with accidentally enormous middlemen apps that have no special interest in publishing beyond value extraction through advertising is the early internet utopian's worst-case scenario.
Google certainly believed that vision when they acquired YouTube for $1.65 billion on October 9, 2006.
Google made one simple calculation when it purchased YouTube: in the broadband era, video was likely to become as ubiquitous on the web as text and pictures had always been. YouTube was already, in essence, the world's largest search engine for video. In fact, it would eventually become the second-most-used search engine, period.

How The Internet Happened: From Netscape to the iPhone
YouTube as a stand alone entity would probably be worth about 30X to 40X what Verizon paid for Yahoo before writing it down massively. That valuation gap is because
one platform is the present & future, growing like a weed
one platform is the past, increasingly irrelevant by the day as it is displaced by niche publishers with higher quality content
According to SEMrush traffic analytics YouTube gets more visits than Facebook, particularly on desktop.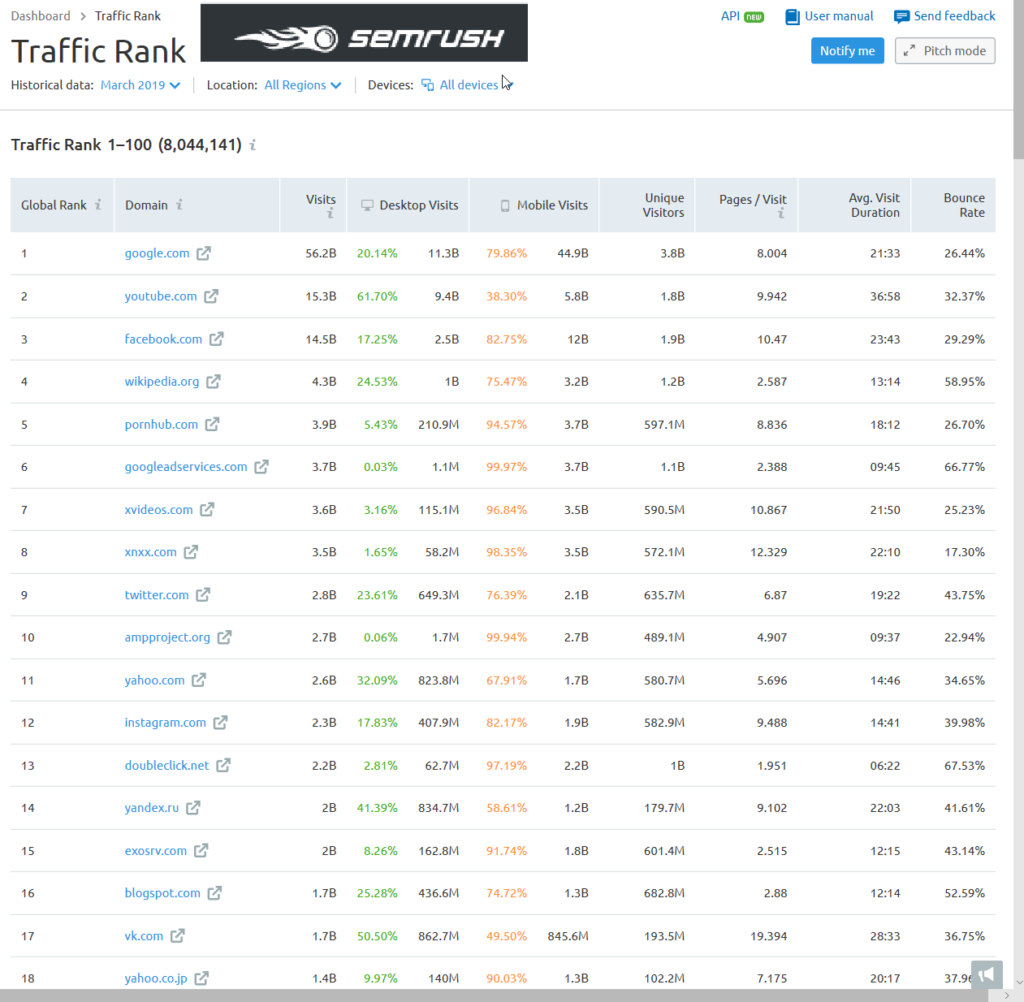 Broad-based Strategic Investment By Tech Companies
General Lay of the Land
Every one of the big tech plays is investing billions of dollars in video. Apple announced their new streaming service recently, Google has YouTube, Amazon has Prime Video & IMdB Free Dive & Twitch, then of course there is Netflix.
Facebook is Desperate for Video
Mark Zuckerberg made it abundantly clear he sees video as the future:
You can just see this trajectory from early internet, when the technology and connections were slow, most of the internet was text. Text is great, but it can be sometimes hard to capture what's going on. Then, we all got phones with cameras on them and the internet got good enough to be primarily images. Now the networks are getting good enough that it's primarily video. At each step along the way, we're able to capture the human experience with greater fidelity and richness, and I think that that's great.
Facebook has Watch, but their past greed with low revenue sharing (their Audience Network is a joke for publishers – backfilling low CPM stuff instead of the premium tier ads on Facebook proper) has meant they have failed to get many great partners offering first-rate video content to date & Facebook Watch has not caught on widely.
Facebook obtaining a music license with all the major labels could help close the gap with YouTube some, but the labels are perhaps in no rush to further commoditize music through ad-driven partnerships with big tech players given that YouTube Red has been a flop & both Spotify & Apple Music are providing vital subscription revenues that are changing their fortunes.
Facebook still does not have a device like Chromecast, Apple TV, or the Amazon Fire Stick to jump into the OTT market. Better than a device, Roku's software is being baked into many TVs, making it easier for them to align their business model with Facebook's (ad sales vs hardware, with addressable targeted ads). And Roku is unlikely to do anything belligerent like Google in terms of forcing a row of crappy ads on a multi thousand Dollar TV. Roku would be a great acquisition for Facebook if they wanted to play catch up on OTT distribution. Plus with all the controversy around the Facebook brand on the privacy front, having a separate application would be a wise business decision.
Facebook would be a natural buyer for Roku, as would Walmart or Disney.
Infighting
Tech companies have had rounds of infighting where Amazon for a period of time refused to sell Chromecast or Apple TV. That sales policy reversed after Amazon's Echo stopped getting access to YouTube. Netflix recently stopped supporting Apple's Airplay.
Crappy Bundling
Almost every week there is a new article in the mainstream press about privacy issues. Crazy ad targeting features on Facebook that allowed redlining. Facebook allowing third party apps access to excessive amounts of user data. Facebook requesting third party email passwords to log into the user's email & harvest their contacts. Facebook leaving hundreds of millions of user passwords accessible in plain text. Google Android is spying on user location data even if they have location services turned off or the SIM card removed from a cell phone. Ring video data streaming online unencrypted. Amazon workers listening to what you tell Alexa. etc etc etc
Founders of the tech companies spend 10s of millions of dollars per year on personal security while people are being killed & third world villages are razed due to conflicts started by fake news shared on their social media platforms.
In addition to the above sorts of issues, Google & Amazon have done a 1-2 punch to gut new tech start ups by copying their products and selling below cost.
"According to confidential documents viewed by Mashable, Amazon acquired Eero for $97 million. Eero executives brought home multi-million dollar bonuses and eight-figure salary increases. Everyone else, however, didn't fare quite so well. Investors took major hits, and the Amazon acquisition rendered Eero stock worthless: $0.03 per share, down from a common stock high of $3.54 in July 2017. It typically would have cost around $3 for employees to exercise their stock, meaning they would actually lose money if they tried to cash out."
There might be a few companies that will hang their hat on selling an Google or Amazon powered TV, but that is a path to doom ultimately.
"Rivals Amazon.com Inc. and Best Buy Co. are joining forces to sell television sets powered by Amazon's Fire TV operating system. … The companies will sell 11 models, starting this summer with TVs by Toshiba and Best Buy house brand Insignia. Best Buy will feature the Amazon-powered TVs in its stores and on its website, and also become a merchant on Amazon's website, where it will sell these TV sets exclusively. … The partnership means that Best Buy's house brand Insignia will no longer produce sets powered by Roku Inc.'s operating system."
These low-margin device makers know they need a diverse & competitive ecosystem to earn incremental revenues. They have already seen Google eat most of the profits on the mobile web. Samsung is the only Android hardware player outside of China with actual profits.
They have seen Google buy & gut Motorola, have seen Google buy HTC, have seen Android go from open to closed, have seen Google security "researchers" conducting opposition research styled zero day disclosures on Galaxy phones when Google was concerned about Samsung becoming too powerful of a partner.
They have also seen past resignations over TV OS fails. The big, ugly ads showing up on the operating system on a multi-thousand dollar TVs are anything but appealing.
In this sort of environment, being partnered with a player exclusively devoted to your category is a better & more sustainable strategy than being tied to a large company's side-side-side business:
"In the tech business, superior technology often wins and tech companies basically compete on how smart their employees are and the quality of their products. … when new computing platforms emerge, an operating system or a platform built specifically and optimized for that platform wins. … When you're trying to get 50 cents off your bill of materials so you can win a Black Friday special at Walmart, the amount of money you save by cutting your RAM in half and your CPU in half by running Roku software — which actually has great performance and more content — is huge. It's the difference between getting distribution and not getting distribution in Walmart."

Roku CEO Anthony Wood
Other Big Media Companies
In addition to all the tech companies, Walmart has Vudu, Disney will launch Disney+ this year, Disney also has ESPN+ & Hulu, AT&T has WarnerMedia launching a service soon, CBS has all access, Comcast acquired Sky, etc.
Amazon has already moved away from supporting the longtail toward focusing on the big players like HBO & Showtime. That in spite of getting a 30% to 50% rake from channels on a fast-growing, high-margin revenue stream of $1.7 billion per year. Roku has an incentive to differentiate by not only partnering with the likes of Epix, but also partnering with many longtail streaming services. Roku hasn't engaged in any of the anticompetitive infighting the other tech companies have done. They support Google Play and many other services.

Viacom paid $340 million to acquire Pluto TV. They also approached Tubi TV.
Walmart owns video site Vudu & there are many other players between streaming services focused on niche categories like anime or British comedies or Korean dramas & regional players like Hotstar in India, Bilibili & Youku & iQiyi & Tencent Video in China, & iFlix in other emerging Asian markets.
While the sector is largely dominated by Netflix, Amazon, and Hulu – PwC said SVOD revenue accounted for 79.6% of OTT revenue in 2017 – niche players are increasingly making a dent in the overall business. PwC noted that anime and manga service Crunchyroll reached 1 million subscribers in 2017, streaming more than 1.5 billion minutes of content per month, while U.K.-centric BritBox reached 500,000 customers.
Likely Industry Trends
Throwing Good Money After Bad
All the capital allocation being pushed into securing exclusive content rights & creating video subscription services will eventually create subscription fatigue, which in turn will drive consumption back toward free services.
But there will be HEAVY marketing spend before that subscription fatigue sets in. Those who have already dumped 10s of billions of dollars are going to dump millions more into marketing.
Could you imagine the investor response to a quarterly result where a management team states they are going slow & conservative & are not worried about low growth at their big new category they've dumped 30% or 50% of their market cap into?
Inconceivable.
Paying for Live Web TV vs Movie Streaming Services
YouTube and Hulu have been growing their streaming TV offerings while Sling & DirecTV haven't really been growing recently. Frequently YouTube has a popover offering an ad free experience & they even sometimes do nasty stuff like unskippable midroll ads in the middle of songs! That horrible user experience probably ends up being a subsidy to Spotify, YouTube downloader services & anything Napster-like still on the market. Those streaming TV growth rates are likely to slow further as lower cost competitive movie streaming services launch & early price subsidies for skinny bundles of live web TV services go away.
Google has cut back on YouTube TV subsidies, recently raising prices to $50 per month. The skinny bundles are ultimately a bad deal for those who get news free from online channels. Other than sports, there isn't much reason to pay 3x Netflix price or 8x Disney Plus price when the other services offer an essentially limitless pool of content to consume.
AT&T's acquisition of DirecTV was a disaster:
"DirecTV has lost 1.4 million satellite customers since its peak of 21 million-plus about two years ago. Analysts expect news of roughly 300,000 more defections when AT&T reports quarterly results on Wednesday. AT&T is bracing for cancellations this year that would cut into its 2019 operating profits by $1 billion. The company has told investors it plans to make up for much of the money lost to defections by charging more to customers with discounts who stay. Meanwhile, some former call-center workers say AT&T has incentivized such employees to make it as difficult as possible for customers to cancel, a claim the company disputes."
And their replacement OTT service has already begun shrinking!
"The company reported a net loss of 403,000 DirecTV satellite subscribers as well a decline in its online streaming service DirecTV Now, which shed 267,000 customers including free trial accounts. AT&T reported a net customer gain of 12,000 at its U-verse home video service."
If their Time Warner / WarnerMedia acquisition is viewed as disastrously as the DirecTV acquisition was they are screwed. AT&T absolutely can not afford to launch a streaming service that fails to take off or they'll likely create a cycle of doom that could impact their mountain of BBB rated debt. If the rating falls their will be forced sellers of their debt, spiking yield on any debts they roll over. That increased debt service cost could in turn make many investors think their dividend is in jeopardy & that doesn't work when the stock has been sliding for years.
Roku is Switzerland
Being a neutral party not tied to a mammoth monopolistic tech play, Roku is likely to be seen as a low-risk distribution point in the same way that Apple was to music labels with the original iTunes store when Apple was a niche computer & computer accessories maker near bankruptcy.
Further, the companies launching video subscription services have spent 10s of billions of Dollars on acquisitions while also nixing some of the licensing revenues they may have obtained from third party services if they didn't keep key content as differentiated exclusive content on their site. the narrative of growth (at any cost!) will be vital for these firms, so they will spend a lot to advertise on Roku & offer Roku competitive deals for sharing revenue on streaming partnerships.
Video subscription services will be forced to lose money buying growth, which will make the ad rates on Roku's interface jump. The new video streaming services will be desperate to sell the growth story at any cost, because they've already spent 11 figures (or 12 collectively) on their plays in the market.
This is similar to the VC fueled bubble currently going on in online mattress sales, or the VC fueled bubble between daily deal sites like Groupon & LivingSocial about a decade ago.
The massive marketing push we will soon see will be funded by rolling over debts & using cashflow from adjacent telecom & cable markets rather than venture capital, but a lot of that money will still spill onto Roku just the same.
When subscription mania washes out, there will be more ad-supported video available to stream on Roku. And with YouTube keeping 45% of ad revenues, it won't be hard for content creators to prefer Roku.
Update: Indeed the Disney+ announcement is good for ROKU
Disney said it has reached a deal to give Disney+ prominent display with Roku users. Laura Martin of Needham & Co., in a research note Tuesday, said that Roku will get a share of the revenue generated by people signing up for the new service.

That revenue share plus an increase in advertising could be worth $200 million a year and could boost the market value of Roku by 15% or $1 billion, according to Martin.

Broadcasting & Cable