Another trade war negotiations working utterly fantastic well hugely big Tweet from the president provides a ramp for the stock market to open up.
Very productive conversations going on with China! Watch for some important announcements!

— Donald J. Trump (@realDonaldTrump) December 11, 2018
I used that & the Libya oil issue to exit the ExxonMobil position I put on yesterday & half of the Funko I had left at open.
On Stocktwits someone published a picture of that San Francisco eBay billboard I walked past recently which promoted Funko Pop. There's also a Funko lawsuit against Loot Crate for using Funko branding to sell Loot Crate boxes when they haven't worked together in about a couple years.
Loot Crate hasn't included a Funko Product of any kind for about 2 years now. The box shown above is an assortment of items from past boxes bundled together to sell at Walmart. The Pop shown (and mentioned above) is the last Funko to be included in any Loot Crate and it was to promote the Assassin's Creed Movie in 2016.
I spoke with a friend today who has way more Pop than I do. He mentioned there are now a bunch of fake Funko products being created to cash in on the craze. He also collected sports cards when he was younger and said he thought the Pop craze has at least another 5 to 7 years left on it.
Google Trends shows nothing but love for FUNKO.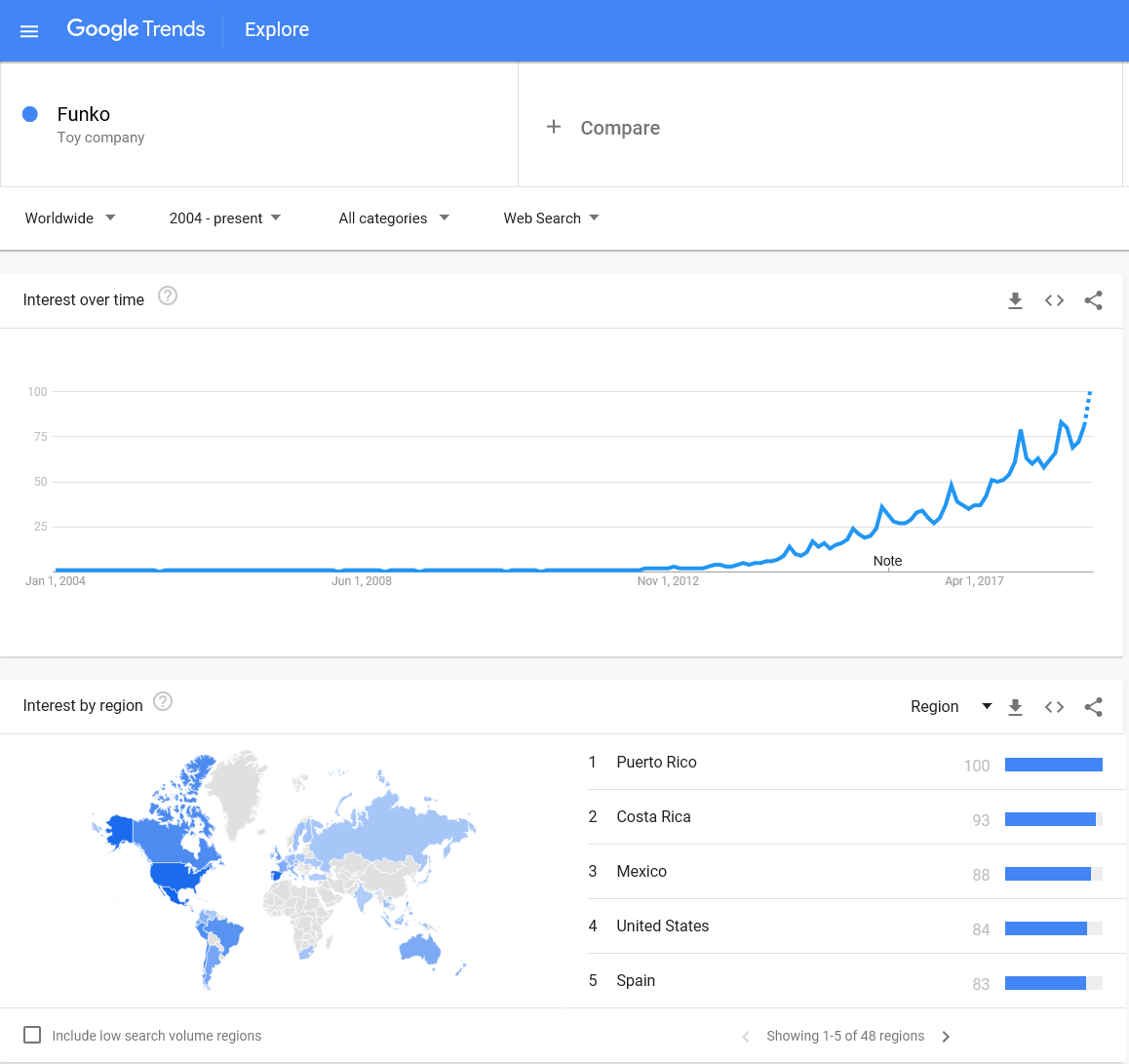 From open Funko has slid about $1 a share, so I re-established the position I sold at open. I also saw XOM had retreated almost $2 a share from where it opened, so I bought back in on it.
The WSJ published an article stating China was lowering U.S. auto tariffs from 40% to 15%, which is better than the 25% it was before the trade spat, but the financial markets have been see sawed for very little progress. …
Trump aides say that Mr. Trump sometimes tweets positive news about China talks to try to boost the stock market. Futures trading suggested a strong opening on the New York Stock Exchange.
At some point the half-life market performance of Tweets will match their actual half life.
The Dow has already dropped into negative territory for the day, with a big, beautiful 400-point slide from the open.
In other good news, Yellen warns of another potential financial crisis: 'Gigantic holes in the system' & North Korea is expanding missle base with eye toward U.S., experts warn. At least Twitter is up bigly on the day so far.